On the morning of November 7, the grand ceremony of Macao Novo Banco Asia S.A. renamed as Well Link Bank will be held in Macau's Bank of China Building. Wu Wenxiang, member of Financial Supervisory Authority of Macao SAR Government, and Liu Bin, Director-general of Economic Department of the International Liaison Department of the Central Committee of the CPC, and other related leaders will attend the ceremony. In addition, there will be more than 60 participants, including the bank shareholder representatives, enterprise customer representatives, management personnel, directors, supervisors, and news media personnel. Wu Wenxiang, Liu Bin, together with other leaders and guests will unveil the nameplate of Well Link Bank.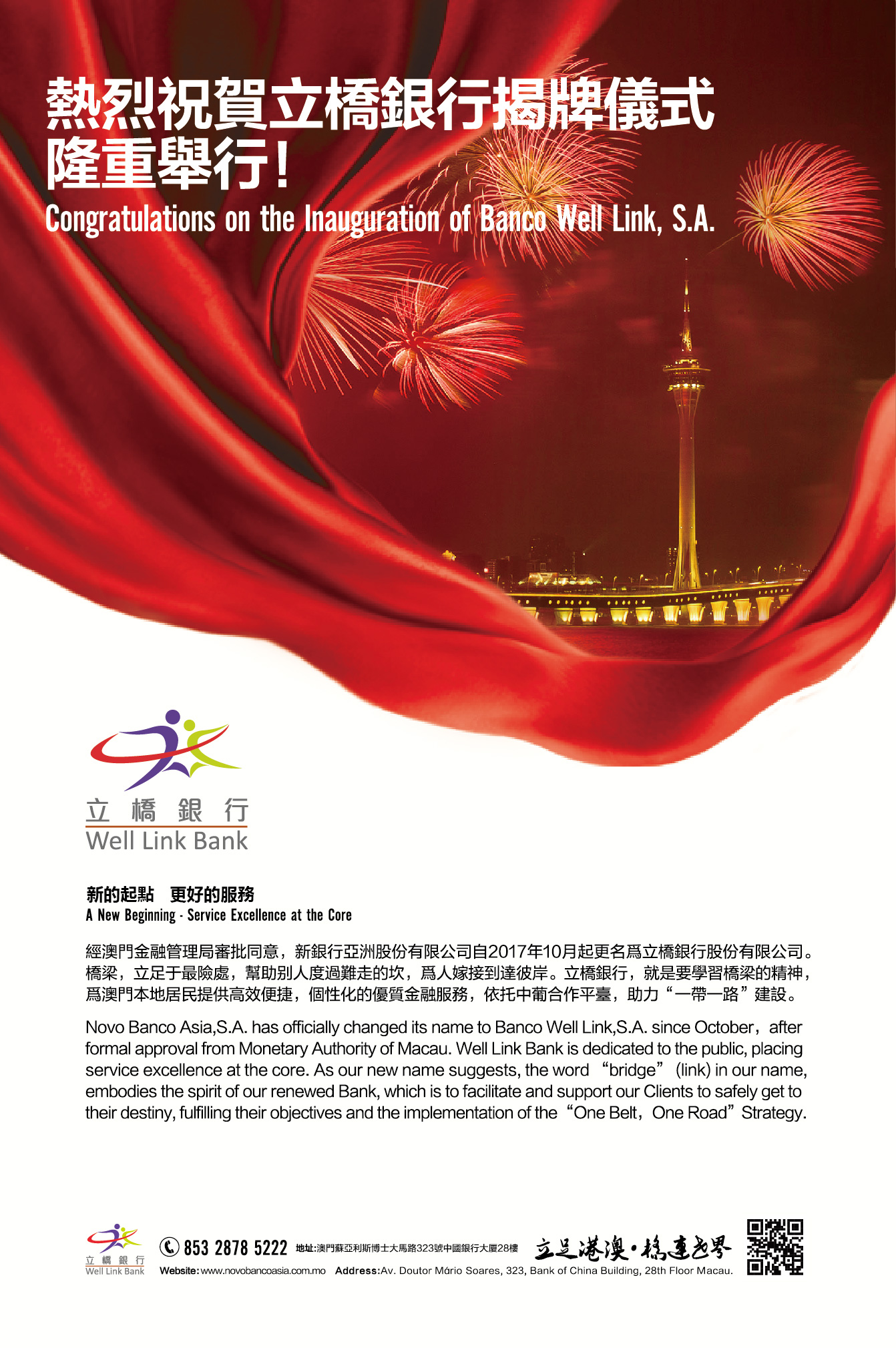 Novo Banco Asia, S.A., originally owned by Novo Banco, S.A. from Portugal, is the predecessor of Macao Well Link Bank and was founded in 1996. The bank has a long history, good public praise and great social influence in Macao City and Portuguese Countries. In recent years, owing to insufficient capital investment and lack of innovation, the bank faced a slow and limited development process. For this reason, the Portuguese government intentionally gave up the status of controlling shareholder. After multi-lateral market competition, the syndicate led by Hong Kong Well Link Group stood out and successfully purchased the bank and renamed it as Well Link Bank after the takeover.
Well Link Bank has a strong line-up of new shareholders from Hong Kong, Macao and Mainland China. They are leading figures in financial business circles, mainly including Well Link Group, engaged in operation of securities, insurance and banking in Hong Kong, Macao's Ma Family, Shenzhen property tycoon Kingkey Group, Mr. Zhang Shengman (former managing director of the World Bank). The original shareholders Novo Banco, S.A. from Portugal remain with a minority participation. Mr. Zhang Shengman will manage daily operation of Banco Well Link, S.A. as chairman of Board of Directors. The new shareholders bring solid strength, rich management experience and advanced concept.
Reported by Macao Daily News, November 7, 2017