The inauguration ceremony of Well Link Bank, previously known as Novo Banco Asia S.A. , was held yesterday. Well Link Bank, covering Guangdong-Hong Kong-Macau Greater Bay Area, connecting the Greater China Region and linking international markets, provides all-round financial services for enterprises involved in the Sino-Portuguese "One Belt and One Road" economic trade cooperation. Well Link Bank also develops smart bank branches in Macao and provides efficient financial services for residents and enterprises with technological means.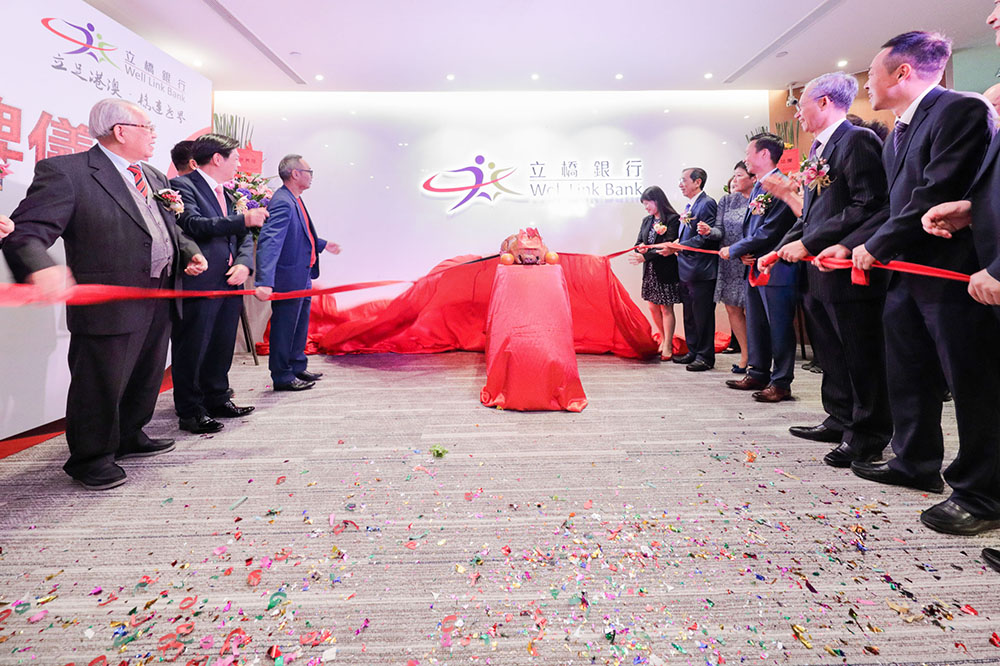 Introduce Powerful Shareholders and Expand Scales
The ceremony was held in Macao's Bank of China Building at 11:00 am yesterday. Liu Bin (Director-general of Economic Department of the International Liaison Department of the Central Committee of the CPC), Xue Leinuo (Consul-general of Portugal in Macao and Hong Kong), Wu Wenxiang (Member of Financial Supervisory Authority of Macao SAR Government), Lin Guangzhao (Head of former National People's Congress delegation of Macao and winner of The Golden Bauhinia Award), Ye Zhaojia (Chairman of Macao Banking Association), Ma Lao Lai (Member of Macao Executive Council, president of Macao Chamber of Commerce, and Member of the National Committee of CPPCC) and his wife Ngan Yuen Ming, Xu Chujia (Chairman of Board of Shareholders, Well Link Bank) and his wife Zhang Meijuan, Chen Hua (Chairman of Kingkey Group), Zhan Meiqing (President of Well Link Financial Holdings and president of Hong Kong Trade and Industry Association), etc.
The predecessor of Well Link Bank, was established in 1996 as the Macao subsidiary of Banco Espirito Santo S.A. (BES ), the second largest listed Bank in Portugal, and was named Banco Espirito Santo do Oriente, S.A.. In 2014, following structural changes in BES a new Portuguese Banking Group was created called Novo Banco, S.A. which led to the change of name of its Macao subsidiary to Novo Banco Asia S.A.. In more recent years, Novo Banco, S.A. decided to focus on its domestic business and sell its International Units. After the successful acquisition of the Macao Bank by Hong Kong Well Link Financial Holdings led consortium of investors on a competitive international acquisition process and subsequent approval of Macao Monetary Authority, Novo Banco Asia S.A.. is finally renamed as Banco Well Link, S.A. (Well Link Bank). The new shareholders come from Hong Kong, Macao and Mainland China, including Well Link Group , which is engaged in securities business, insurance and banking in Hong Kong, public figures in Macao, Shenzhen property tycoon Kingkey Group, Mr. Zhang Shengman (former managing director of the World Bank) and original shareholders of Portugal Novo Banco, etc. In addition, Mr. Zhang is appointed as chairman of Board of Directors, Well Link Bank.
Expand Influence with Three Strategies
Well Link Bank will make a kick-start after the opening. Firstly, to establish the management team for the construction of a scaled and influential bank. Zhang Shengman, a senior banker, successively worked as deputy director of Ministry of Finance of the People's Republic of China, and executive director for China, vice-president and corporate secretary, senior vice-president and managing director at the World Bank. Besides, other senior executives have rich experience in corporate banking and personal banking service.
Secondly, to establish service system. Well Link Bank, covering Guangdong-Hong Kong-Macau Greater Bay Area, aims to connect the Greater China Region and link international markets, providing one-stop quality financial service for Macao residents. Thirdly, to establish innovation-driven new patterns. With mature experience from Shenzhen and Hong Kong, Well Link Bank will establish smart branches in Macao. Well Link Bank also makes use of new business operating platforms, including a series of smart terminal devices, reducing internal banking process lead times and setting banking personnel behind the counter free to offer personalized banking service. Well Link Bank changes traditional banking layout, and leaves main area of banking outlets to customers for waiting, rest and business negotiation.
Reported by Macao Daily News, November 7, 2017
(http://www.macaodaily.com/html/2017-11/07/node_2.htm)